Spaciousness, comfort, and elegance in the right proportions
The single-space rooms of the Kamares Villas Boutique Hotel near Gytheio constitute an ideal holiday option for couples and small families who seek a beautiful place close to the sea to enjoy the natural beauty and the beach. We have paid particular attention to stylish decoration, modern design, and elegant furniture, thus formed romantic, functional, pleasant and hospitable accommodations which invite you to enjoy them. In a single space of 40 m² which can accommodate up to 3 people there is a kitchen, a living room, one double bed or two single beds, a terrace with a table and chairs, a beautiful view to the surrounding area, furniture of high quality and taste by Ferma, comfortable mattresses by Coco-Mat, and all modern conveniences which will make your stay more comfortable and provide the background for some of your most special holiday moments. Kamares Villas Boutique Hotel near Gytheio also includes a specially designed single-space room for people with disabilities, adapted to the needs of our visitors with reduced mobility issues.
 Room amenities
40 m²
Double bed
Living room
Coco-Mat mattresses
Spacious wardrobes
Α/C
Kitchen equipped to make coffee/beverages
Modern bathroom
Choice personal care products
Bathrobes – slippers
Hair dryer
LED TV
Air-condition
Free WiFi internet
Small fridge
Fireplace (only available in 1 room)
Telephone
Stylish decoration with emphasis on modern design
Furnished terrace
Daily room cleaning service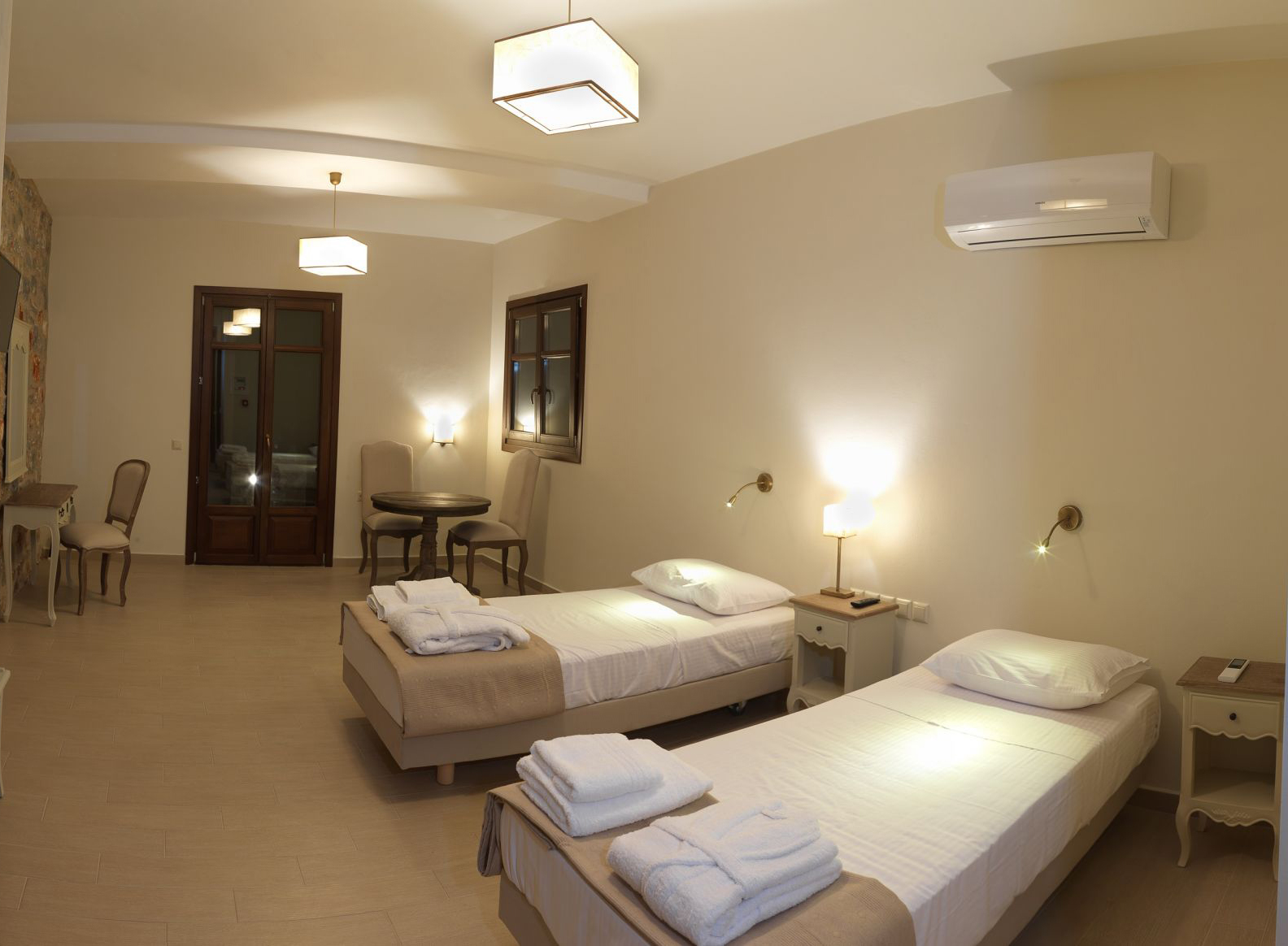 High grade accommodations
The double-space rooms of the Mani Kamares Villas Boutique Hotel constitute an ideal option for holidays near Gytheio for large families and groups of friends who seek a spacious, modern, elegant and quiet environment to relax and enjoy the summer. They extend to 60 m² and can accommodate up to five people. They have a separate bedroom with on double bed or two single beds, a living room with a sofa bed, while the option to add an extra bed (for a 5th individual) is provided, with extra charge. They also include spacious wardrobes, unique decoration with emphasis on modern design and the details that justify the "boutique" character, high quality and taste furniture by Ferma, and comfortable mattresses by Coco-Mat. Furthermore, there is a fully equipped kitchen where you can prepare quick meals for you and your family, and two of the rooms include a fireplace.
Room amenities
60 m²
Bedroom with one double bed or two single beds
Living room with a sofa bed
Option to add a 5th bed (extra charge)
Coco-Mat mattresses
Α/C
Spacious wardrobes
Kitchen equipped to make coffee/beverages
Modern bathroom
Choice personal care products
Bathrobes – slippers
Hair dryer
LED TV
Air-condition
Free WiFi internet
Small fridge
Fireplace (only available in 2 rooms)
Telephone
Stylish decoration with emphasis on modern design
Furnished terrace
Daily room cleaning service